During a visit to Morgantown near the time construction of the WVU Coliseum was wrapping up in the summer of 1970, famous stage and film actor Vincent Price said the new structure looked just like a "great, big cupcake."
Well, this great, big, concrete cupcake is turning 50 this year, and it looks much younger than its age.
Recent refurbishments totaling $20 million have brought the concourse, restrooms, concessions areas and locker rooms into the 21st century.
New seating, an upgraded lighting and sound system and a high-definition video board will add even more 21st century pizazz to a structure that was once considered far ahead of its time when it opened 50 years ago.
Perhaps that is why it is still thriving today when many of its contemporaries have since faded into history.
The 14,000-seat WVU Coliseum was more than 10 years in the making, dating back to the late 1950s when basketball coach Fred Schaus considered taking the University of Washington head coaching job unless something was done about the old field house his team was using down on Beechurst Avenue.
But things don't always happen quickly in West Virginia.
Many of the state legislators at the time remembered bailing out WVU athletics in the late 1930s when debt accrued during the Great Depression required a one-time state allocation of more than $300,000 to pay off the football stadium in order to keep the department afloat.
Therefore, state funding for a new basketball arena was not going to be an easy process.
Interest in a new facility began to pick up steam in the early 1960s soon after Schaus left to coach the Los Angeles Lakers, and it accelerated in the mid-1960s when young Duke assistant coach Bucky Waters was hired to replace George King in 1966.
West Virginia athletic director Red Brown had preferred working behind the scenes to generate support for a new basketball facility, leaving the public politicking to his brash new coach. Brown knew a standalone venue just for basketball would never fly, so he involved just about every entity of which he could think.
He predicted some of the most famous names in entertainment would one day appear in the new arena so while he privately touted its community benefits to the local politicians and campus leaders, he left it to Waters to speak publicly about its basketball benefits.
In 1967, the state legislature was willing to consider approving a $20 million bond for the construction of a new basketball arena, a new law school and a much-needed addition to the WVU Medical Center, but a turf war immediately broke out pitting the law and medical schools against athletics when bids came in for twice the amount that was allocated.
"The Coliseum was over $10 million so the guys in Charleston said, 'Boys, we gave you $20 million – you figure it out' so there was this huge dogfight," Waters recalled in 2004. "The dean of the law school called it 'Bucky's Castle.' Why do we need this thing? We need a law school and we need classrooms.' It was a great argument."
Waters had to explain to them that West Virginia's great basketball tradition was hanging in the balance.
"If we don't get this now … you've got Cole Field House (Maryland) to the East, Ohio University has a much better arena than we've got, never mind St. John Arena at Ohio State," he said. "We're surrounded by good facilities, and we cannot survive unless we have an incredible run of kids from West Virginia, which at the time we didn't."
Brown was able to arrange a meeting with the WVU Athletic Council before a final decision was made, and he asked Waters to make the presentation. Basically, it was a 32-year-old basketball coach pitted against the deans of the law and medical schools in an intellectual debate about the necessity of a basketball area.
And he had little time to prepare.
"Red calls me the day before the board meets on a Saturday morning," Waters recalled. "He said, 'Okay, you've got an audience with the board.' I said, 'Great Red, how long do I have?' He said I had 10 minutes.
"I said, 'That's 10 minutes for $10 million' and he said that's the best he could do. I had all of these charts and comparisons to use, and I just discarded them and went in there with my heart and I said, 'It may seem like an extravagance, but you have to measure what the Mountaineer basketball tradition means and its continuance. I am not a miracle worker.'"
Waters was sitting in Brown's office at the football stadium when the announcement came over the radio later that afternoon that the Board of Governors had approved funding for a new basketball arena, soon to become known as the WVU Coliseum.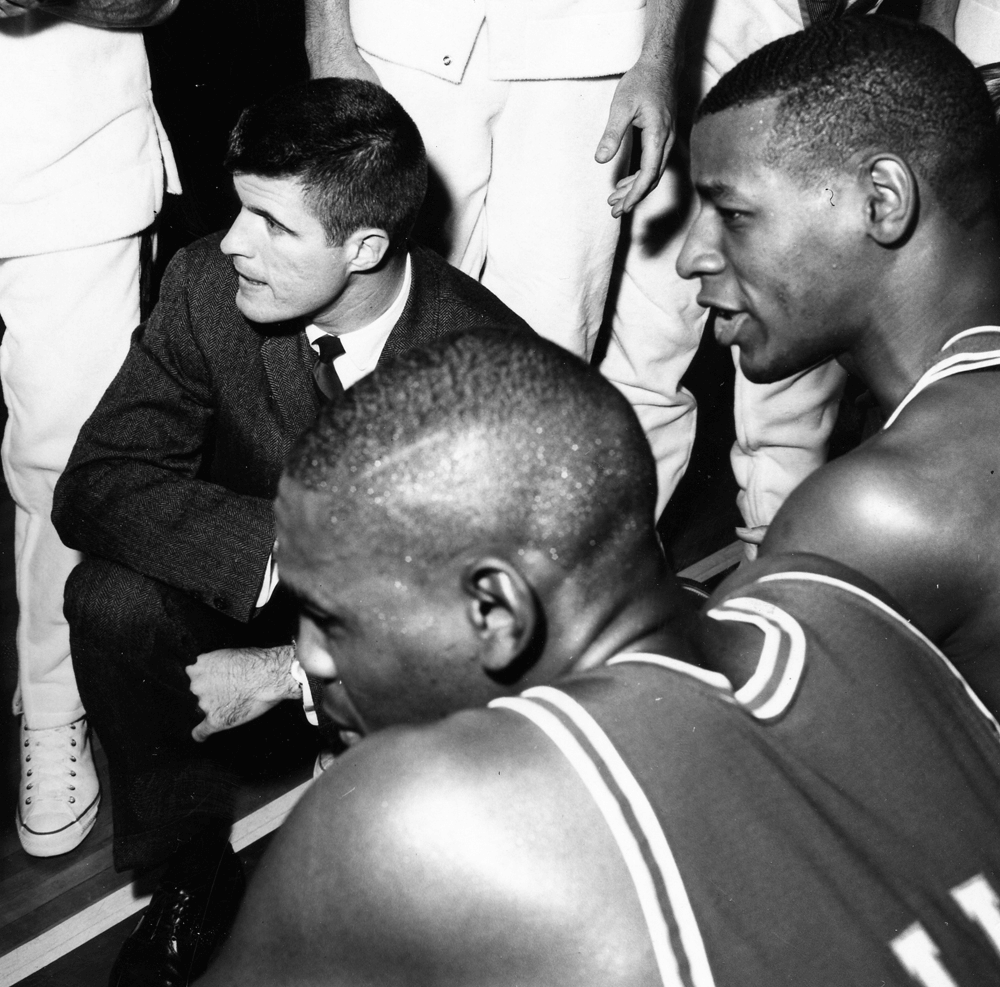 Waters coached at West Virginia from 1965-69
"Red calls me the day before the board meets on a Saturday morning. He said, 'Okay, you've got an audience with the board.' I said, 'Great Red, how long do I have?' He said I had 10 minutes."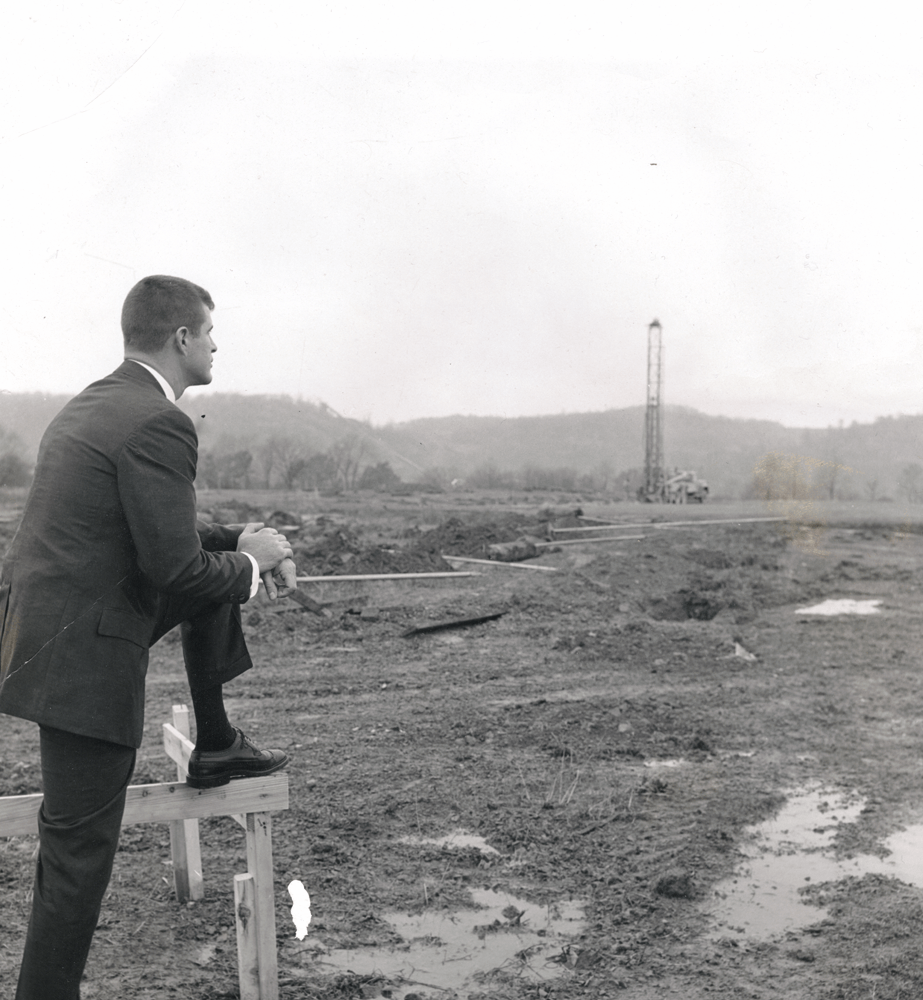 Waters overlooks the future site of what is now the WVU Coliseum
Work crews were on site immediately and three years later, the massive concrete structure was completed in time for the Grand Funk Railroad concert, which took place Sept. 19, 1970. That was the first-ever event to take place inside the WVU Coliseum, proving Brown was true to his word when he said it would not just be a basketball facility.
The first basketball game occurred 2 ½ months later on Dec. 1, 1970 when West Virginia played host to Colgate.
Since then, more than 6.2 million college basketball fans have watched 730 men's basketball games in the Coliseum heading into this year. Countless other spectators have witnessed concerts, commencements and varsity sports events in there as well.
Some of the greatest players, coaches and teams have performed in the Coliseum and through the years it has consistently ranked among the most intimidating atmospheres in the country.
Inside Sports magazine in 1992 rated the Coliseum the eighth-most unfriendly court in college hoops.
"I don't know what it is about that place," Maryland coach Gary Williams said then. "It's not a loud crowd nor a particularly hostile one, but sometimes there are just places out there where it's hard to get comfortable. There's that guy shooting the rifle, shooting indoors – that's really strange. It's just a funny atmosphere."
Well, that has certainly changed, particularly now since WVU alum Bob Huggins took over in 2008. The Coliseum regularly draws capacity crowds and has averaged more than 10,000 fans per game for six straight years.
Four of the five most-attended seasons have come under Huggins' watch since 2010. Not only is it still an intimidating place, but it's now almost always full for its biggest games.
"So you're on your way to the West Virginia campus for a basketball game," ESPN.com's Myron Medcalf wrote in 2016. "You're not looking forward to the 'Press Virginia' attack that forced turnovers on 25 percent – 25 percent! – of its opponents' possession in 2015-16.
"But that's not the first concern. First, you have to get to Morgantown. Your team charter can't squeeze into the Morgantown airport, so you're probably going to fly to Pittsburgh or even Bridgeport, West Virginia, and drive to campus," he continued. "Now you're in Morgantown, but you can't get to the arena because your bus is stuck in a snowstorm. So you arrive late.
"But the 10,000-plus fans at the WVU Coliseum are waiting for you. And their mascot is a real dude with a gun and a Davy Crockett fur cap. You don't want to go to the WVU Coliseum. You just want to get out of there," Medcalf concluded.
What he was describing was his experience covering West Virginia's 74-63 victory over No. 1-ranked Kansas on Jan. 12, 2016. It was one of four times college basketball's No. 1-ranked team in one of the two major polls has tasted defeat inside the Coliseum.
In fact, top-ranked Baylor fell to the Mountaineers by 21 points in 2017 – still the largest margin of defeat a No. 1-ranked team has ever experienced in AP poll history.
There have been countless other great games and memories through the years, and we plan to relive most of them with you as we celebrate 50 Years of Coliseum Classics.
Be sure to watch this great tipoff video from our video vault, and then stop back frequently throughout the year as we relive many of the greatest moments, wins, players, teams, coaches and characters in the history of the Coliseum.
And we want college basketball's best fans to be a big part of this, too!
In the coming days, Mountaineer fans will be encouraged to send us your favorite memories on social media by using the hashtag #Coliseum50.
We will have interactive fan voting tournaments for the greatest Coliseum moments and players, and a 16-team bracket of the finest Mountaineer teams of the last 50 years to play in the building on our special 50th Anniversary WVU Coliseum website.
Throughout the year there will also be special features, videos, trivia contests and even a Spotify playlist of some of the best songs played in the Coliseum to help commemorate 50 unforgettable years in this great, big, old cupcake that we call home!
So, let's roll out the carpet and celebrate 50 great years of the WVU Coliseum!
And, here's to another 50 years of great memories!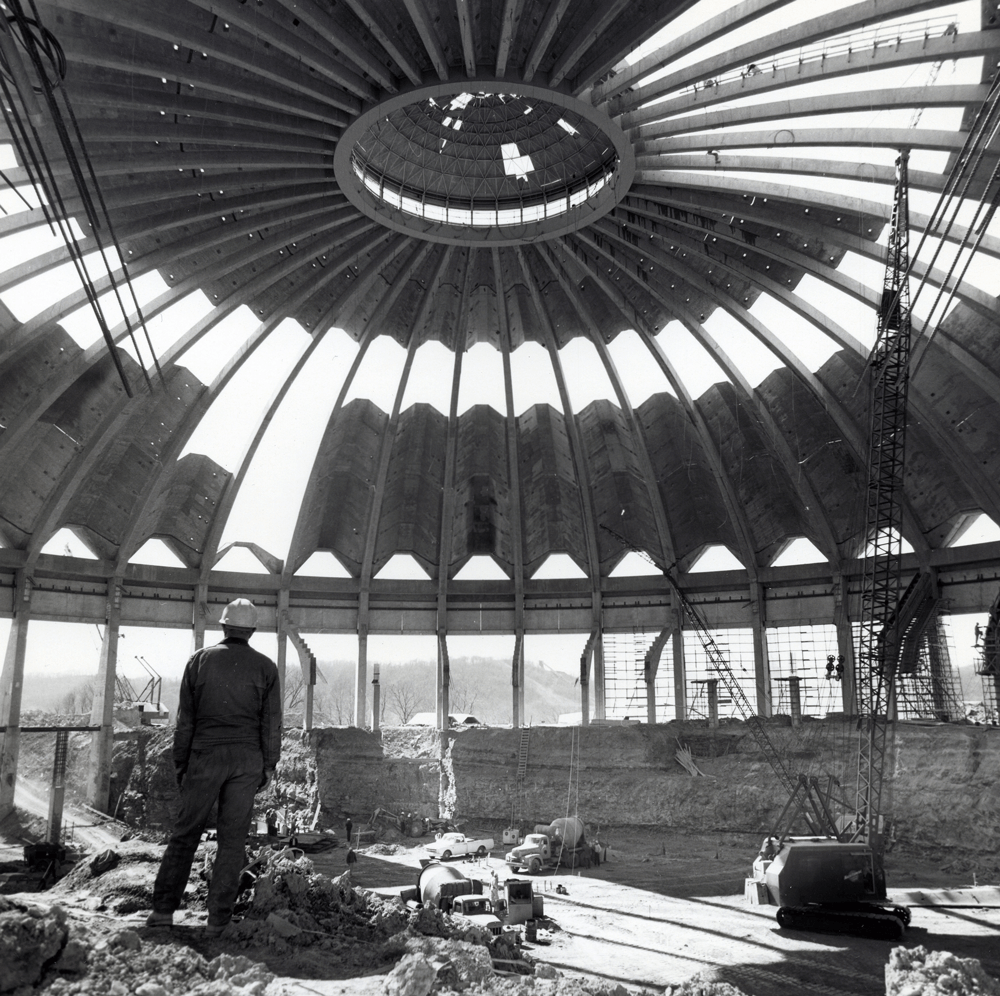 A view from inside the WVU Coliseum as it was being constructed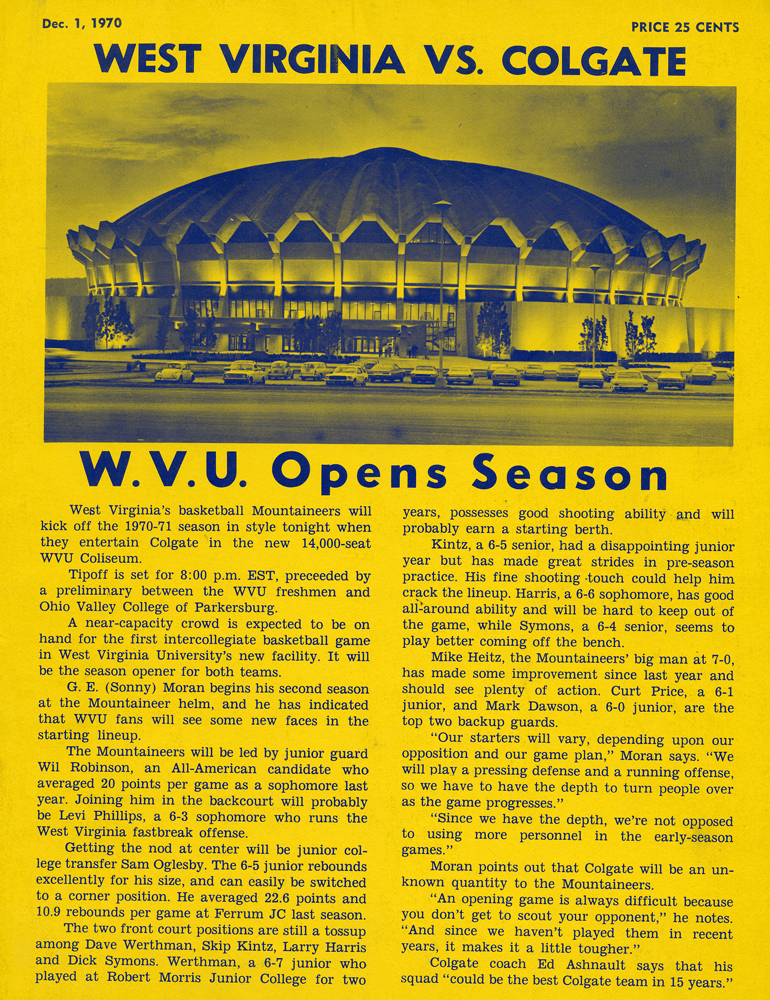 The game program from the first game inside the Coliseum against Colgate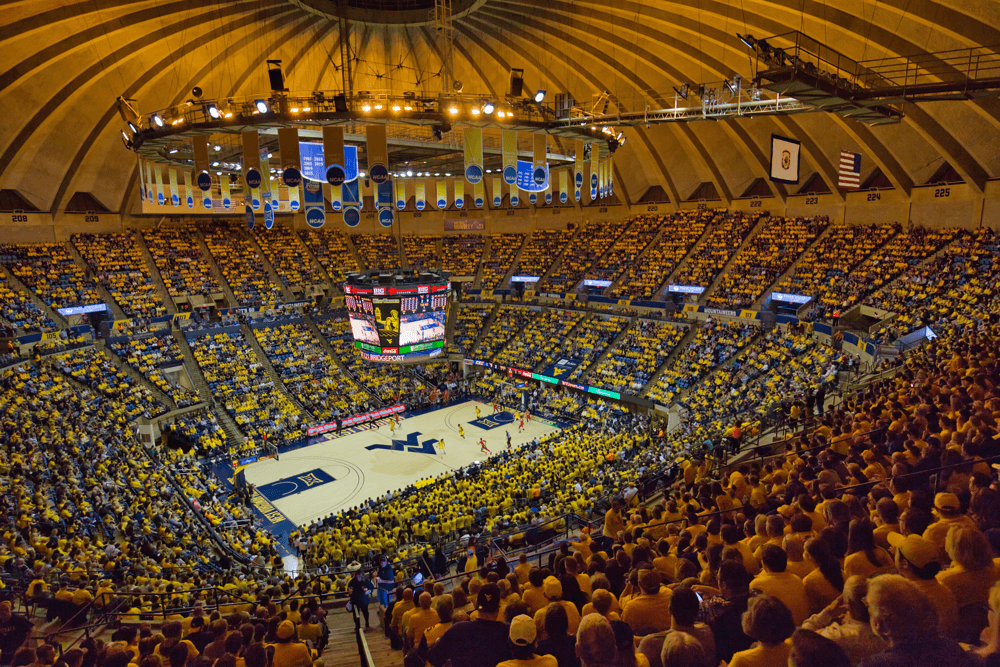 The WVU Coliseum has become one of the toughest places to play in the country