You see the basketball pictured above, the one the late Red Brown is presenting to Levi Phillips?
That basketball was on Bob Huggins' mind from the moment he returned to West Virginia University on April 5, 2007 to become its 21st men's basketball coach.
Levi Phillips was on Huggs' mind, too.
You see, persistence is one of Huggins' best traits. Persistence has helped fuel his 884 career wins and counting – 294 of those so far at WVU.
Levi remembers the time when he once borrowed Huggins' car to run some errands around town. This was when Huggs had to sit out the year after he transferred to WVU from Ohio University. Huggins was then a sophomore and Phillips a senior, so sophomores usually did what seniors told them, even one as precocious as Bob Huggins.
While running his errands, Levi ran into a cute girl who asked him to give her a ride down to Fairmont. Unable to turn down a pretty smile, Levi said he'd be glad to. Eventually, Phillips returned Huggins' car a little bit later than Huggs had expected.
Levi says it was two hours; Huggins swears it was two days!
So, when Huggins got the West Virginia job and was introduced at different places throughout the state, his trip to Levi's hometown of Charleston included an inevitable reunion with his old teammate.
The two smiled, embraced Huggy Bear style, and then Huggs asked him about the basketball.
"You still got the ball, Levi?" he said.
"No hello, nothing … where's the ball?" Phillips laughed. "He wanted that ball!"
Huggins wasn't prepared to wait two hours, let alone two years, but that's how long Phillips held out before finally giving him the basketball that now sits prominently on display in the Hall of Traditions in the basketball practice facility.
Why such a big deal about an old leather basketball?
Well, it was the ball used for the first-ever game played at the WVU Coliseum, which happened to be 50 years ago today on Dec. 1, 1970.
Levi Phillips had it because he was the first player to score a basket in the new, 14,000-seat facility.
Of the 10 guys on the floor to begin the game, Phillips, an admitted below-average shooter, was probably the least likely person to do it.
Of course, All-America guard Wil Robinson was the most likely.
Robinson, from nearby Uniontown, Pennsylvania, was the most prodigious scorer in WVU Coliseum history, racking up 838 points in only 28 games. That averages out to 29.928571 points per contest, which rounds up to 30 in my book.
Fifteen times he scored 30 or more and four times Robinson exceeded 40, including the final two games of his senior season in 1972 against Manhattan and Pitt.
Only Jerry West compares to Wil Robinson as a West Virginia scorer, so that should give you an idea what type of player Robinson was.
If you think Deuce McBride's mid-range pullup is lethal, well, that's nothing compared to Robinson's. Two quick dribbles to his right (always to his right because, as the late Gary McPherson used to say, "he didn't need to go to his left!") and then bam, up in the air higher than everybody else to get off his jump shot.
It was a sight to behold.
When I was a youngster and just getting into West Virginia basketball in the late 1970s, longtime WVU hoops supporter Bob Robinson (no relation to Wil) used to describe Wil Robinson's jumper to me in almost biblical terms.
It was divine.
Wil Robinson's jump shot was the first thing Charleston High teammate Curt Price told Phillips about major college basketball when he arrived at WVU a year before Levi.
"Man, you've got to see this dude shoot!" Price said.
"I knew about Wil and then when I came up there for my official visit Wil took me around campus and I liked him," Phillips recalled. "He is still one of my best friends."
Like Robinson, who had schools from coast to coast pursuing him, Levi Phillips was West Virginia's No. 1 recruiting target in the spring of 1969.
But Levi was thinking hard about going to Purdue, where Charleston native and former West Virginia coach George King had the Boilermakers in the national championship game against UCLA in 1969.
King was a smooth recruiter who had a hand in signing Rod Thorn and a bigger hand in landing Fritz Williams at West Virginia and All-American guard Rick Mount at Purdue. All of that history was hard for Phillips to ignore.
Sensing he was fighting an uphill battle, West Virginia coach Sonny Moran made one final home visit to try and change Levi's mind. He brought his top recruiter, Gary McPherson, with him.
During a brief moment, when Levi had left the room to go to the bathroom or something, Levi's mother got candid with the two concerned coaches.
"I just love that man, George King," she said. "He's such a gentleman, but I don't want my son to leave the country to go play basketball at Peru."
"Peru?" Moran asked.
McPherson leaned forward, pressed down on Moran's knee and said, "You know, Mrs. Phillips, PERU IS AN AWFUL LONG WAY FROM CHARLESTON!"
"She asked me why I would leave the country to go play basketball," Phillips laughed. "I said, 'Mom, it's in Indiana!'"
It didn't matter. As far Mrs. Phillips was concerned, Indiana was in a different country compared to Wild, Wonderful West Virginia. She wanted her son to play basketball at WVU, and that's where he was going!
Levi's freshman year in 1970 was spent watching West Virginia play out its final season in the old Field House. He was sitting in the stands for the last game on March 3, 1970, when the Mountaineers blew a 19-point first half lead and lost 92-87 to Pitt.
The band was there prepared to play "Auld Lang Syne" as balloons were to be released from the rafters at the conclusion of the game. But the loss left such a bitter taste in everyone's mouths that the celebration was abruptly canceled – all of it!
People just quietly exited the arena, never to return.
Nine months later, they did come back to a beautiful, new 14,000-seat basketball arena hyped as the best in the country. Basketball News issued a special WVU Coliseum supplement in its December issue with four pages of West Virginia University-generated propaganda straight out of the promotional brochures.
Levi recalled the student newspaper writing daily stories about the new basketball arena in an effort to get students excited for the 1970-71 season opener against Colgate. The Red Raiders weren't Kentucky, which was coming to town a week later on Dec. 7, so the student paper wisely stuck to promoting the new facility instead of the basketball game.
They were somewhat successful with more than 9,000 showing up, but still about 5,000 fewer than capacity.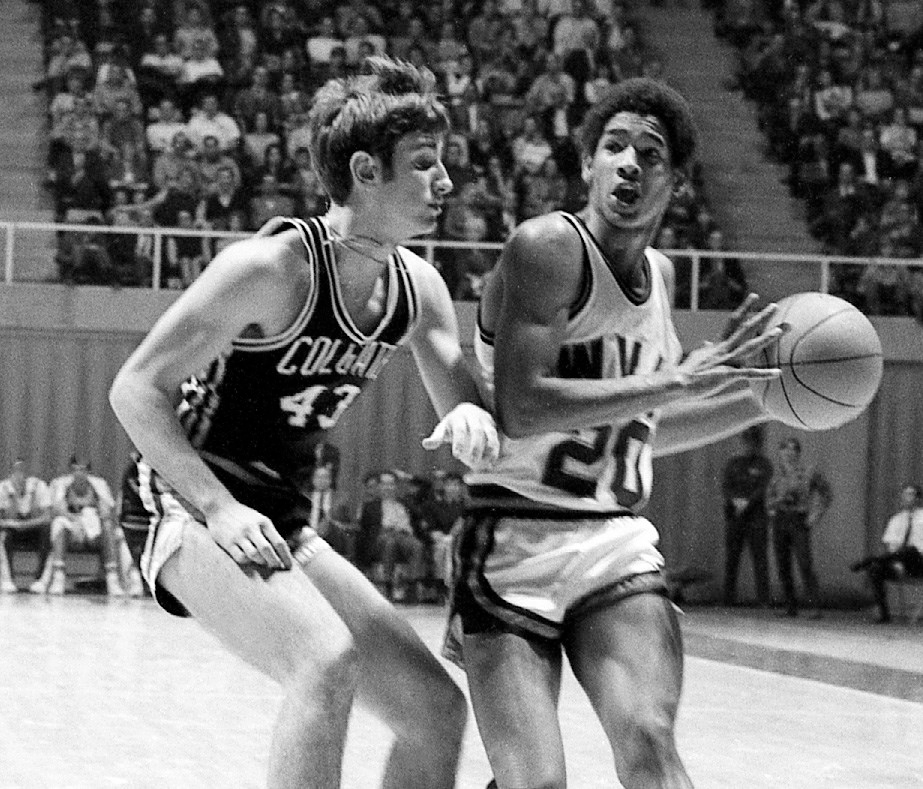 Charleston guard Levi Phillips scored 661 points in 55 games during his West Virginia career from 1971-74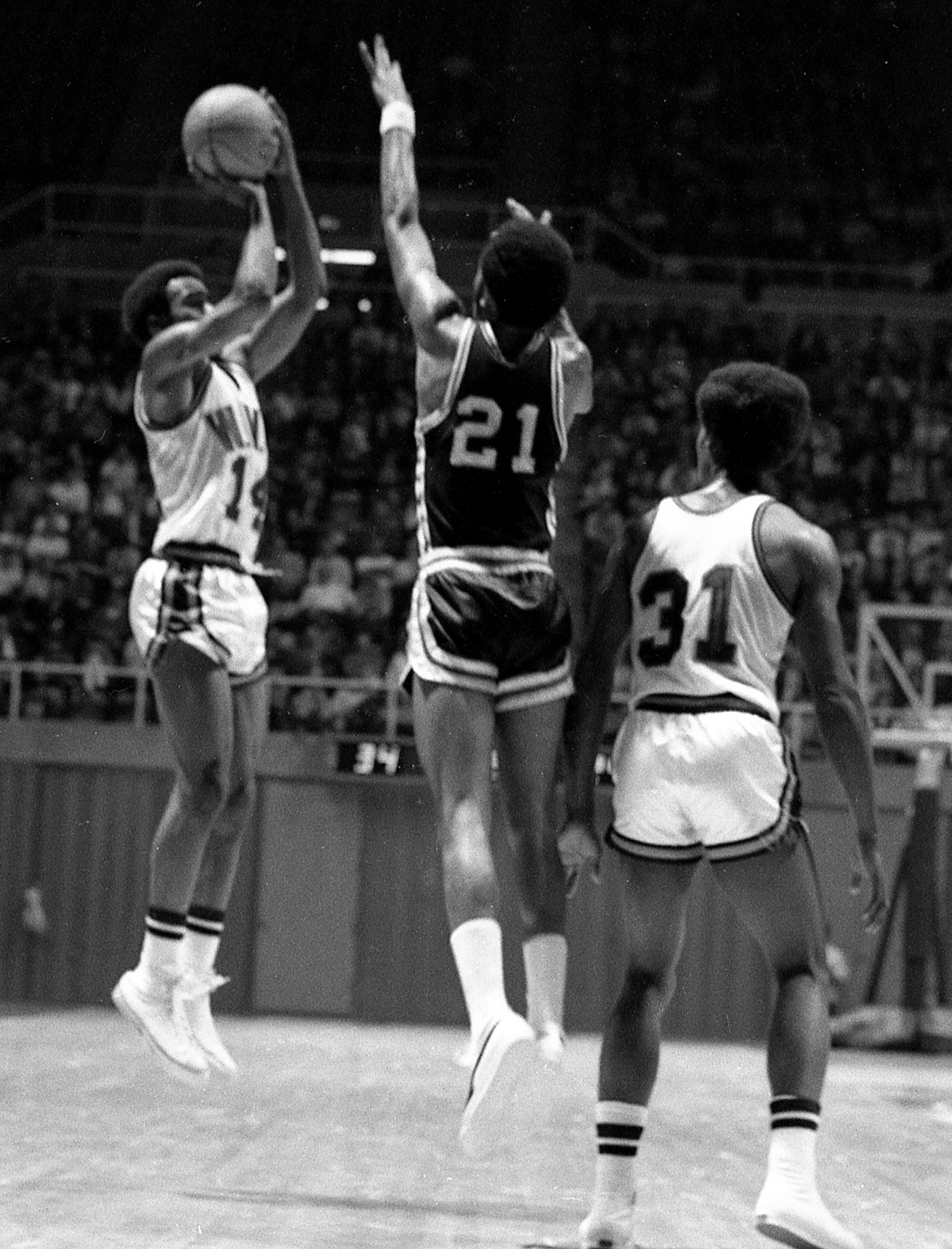 All-America guard Wil Robinson averaged 29.4 points per game during his senior season and scored 838 points in 28 career games at the WVU Coliseum
"You know, Mrs. Phillips, PERU IS AN AWFUL LONG WAY FROM CHARLESTON!"
But, back to the basketball. Robinson was by far the most likely person to make that first basket and permanently etch his name into WVU sports history.
And he tried like hell to do it!
Whenever they all get together for team reunions, Huggins always jokes that Robinson missed his first six shots trying to score the first basket in WVU Coliseum history.
He's partially right. Robinson did miss 22 shots that night, attempting 36 in all – a feat of which Hot Rod Hundley would be proud.
Hot Rod once missed 28 shots in a game against Pitt, but he was always quick to point out that some of those were either bounced off his forehead, tossed from behind his back or drop-kicked from midcourt.
The late Hundley always argued that those counted as shots, too, which is why he ended up being just a career 35.4% shooter.
Robinson was just flat off that night, and one of his first misses came directly to Phillips standing at the foul line. Levi grabbed the ball, put it up and it went in.
That's how the first basket ever scored in WVU Coliseum history came to be.
Levi made 5-of-7 shots and contributed 10 points in West Virginia's 113-92 victory. Robinson was the game's leading scorer with 39.
Afterward, while the team was getting dressed, Red Brown, the man responsible for the building the WVU Coliseum, walked into the locker room with a basketball in hand. Teammate Dave Werthman nudged Phillips in the ribs and told him that Brown was going to give him the ball.
"Until he came into the dressing room and gave me that ball, I didn't even realize I had scored that first basket," Phillips said.
It turns out Levi was pretty oblivious to a lot of things.
He was also unaware that he made history when he scored 21 points, grabbed 13 rebounds and handed out 10 assists in a 94-83 win over Virginia Tech during his senior year in 1974 - one of only three WVU players at the time ever to produce a triple-double in a game.
Jerome Anderson did it in 1975. He's the last player to do so, now 45 years later and counting. The other two were Thorn and early 1950s standout player Jim Sottile, both of whom are in the WVU Sports Hall of Fame, as is Anderson.
Levi was also oblivious to the fact that he once made history when he was part of West Virginia's first all-Black starting five as WVU opened the 1973-74 season against Pitt on Dec. 1, 1973.
The other four players were Eartha Faust, Jerome Anderson, Larry Carr and Warren Baker.
But scoring the first-ever points in WVU Coliseum history is what Phillips, now 68, will be best known for.
It's his Mountaineer basketball legacy.
Historically-astute Bob Huggins was well aware of it, which is why he hounded Levi so long for that basketball. It's much better sitting in the Hall of Traditions where everyone can enjoy it instead of in Levi's mancave, Huggins undoubtedly figured.
It's also Levi's only leg up on buddy Wil Robinson, now living in western New York.
Despite that, Wil still got the last laugh.
When Levi passed the ball around to get signatures from all of his teammates, Wil was the last to sign it. His signature just happens to be the biggest of all, sitting prominently right underneath the JET logo!
It's also the one signature everyone sees when they look at the display, right underneath a much smaller Larry Harris!
Stars are stars, and Wil Robinson was THE Mountaineer basketball star in the early 1970s.
Nevertheless, happy 50th birthday, WVU Coliseum, and thank you Levi Phillips for sharing a treasured piece of Mountaineer sports history!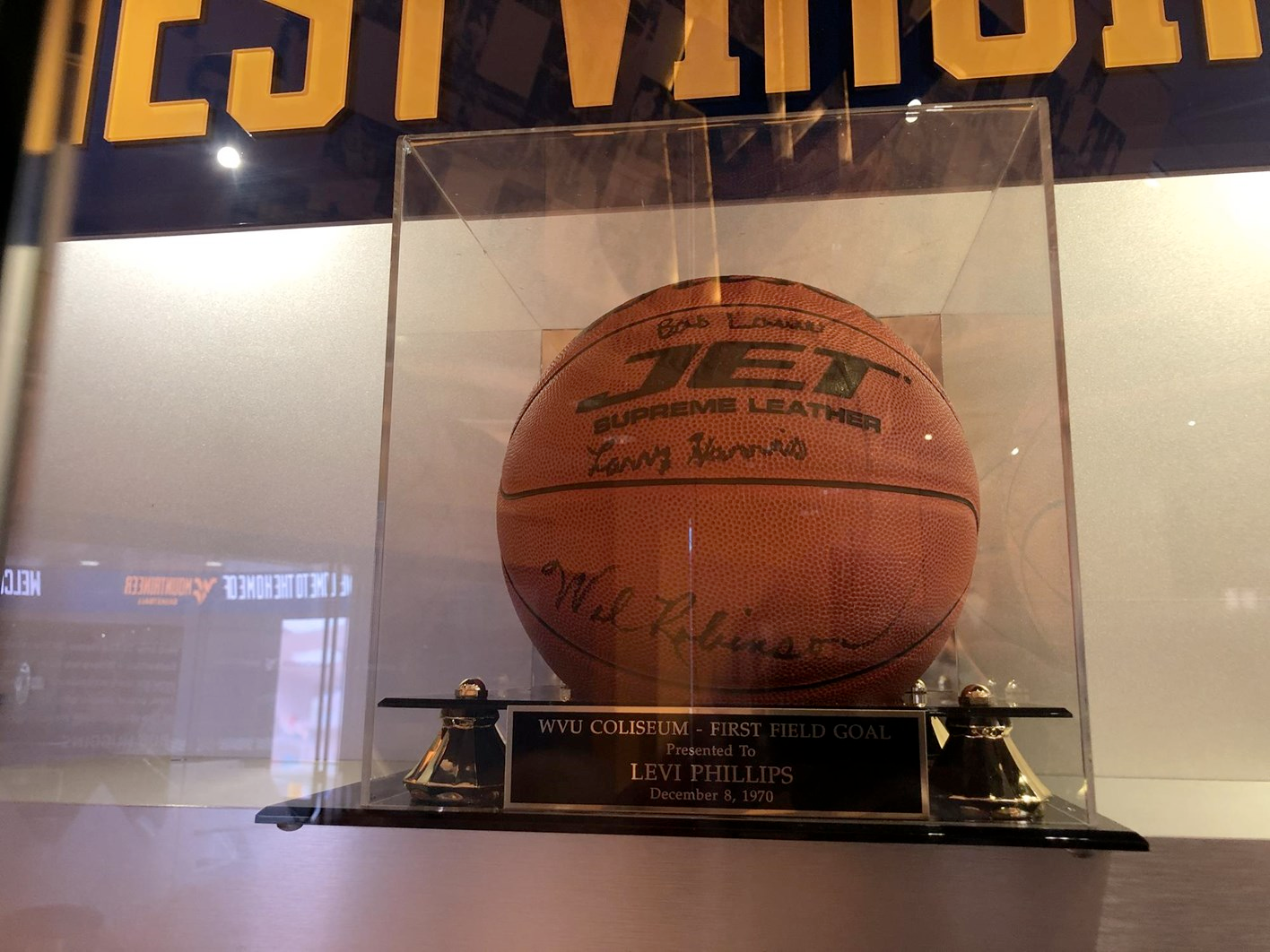 The basketball for the first-ever game at the WVUI Coliseum Levi Phillips donated to basketball's Hall of Traditions at the practice facility
𝗧𝗵𝗶𝘀 𝗗𝗮𝘆 𝗶𝗻 𝗛𝗶𝘀𝘁𝗼𝗿𝘆: 𝟭𝟮-𝟭-𝟳𝟬

The new 14,000-seat concrete structure WVU Coliseum was officially christened with a 113-92 Mountaineer victory over Colgate. #Coliseum50 | #HailWV pic.twitter.com/rEaLQYGxAL

— WVU Men's Basketball (@WVUhoops) December 1, 2020