A vast majority of the 50 greatest wins in WVU Coliseum history have occurred over the last 15 years, when West Virginia was finally bearing the fruits of its Big East membership, but there were some great wins in the years leading up to that as well.
A victory on Dec. 11, 1970 over 14th-ranked Army, coached by Bobby Knight, was certainly noteworthy, as were wins over Notre Dame in 1977, against Pitt in 1982, versus No. 1-ranked UNLV in 1983 and Atlantic 10 Tournament triumphs over Temple and St. Bonaventure in 1984 to get into the NCAA Tournament.
Other big home victories over John Chaney's Owls were also achieved in 1989 and 1994, the latter an overtime affair that ended eighth-ranked Temple's 10-game winning streak that season.
But when West Virginia became a full-fledged member of the Big East Conference prior to the start of the 1995-96 season, there were just as many letdowns as pick-me-ups.
That first season in 1995-96, West Virginia lost all three of its home games against Big East heavyweights Georgetown, Connecticut and Villanova, just as it did in 1979-80 when it dropped games to No. 3 Ohio State, No. 9 Syracuse and No. 3 Louisville during a two-month span.
The win over No. 1-ranked UNLV in 1983 finally ended West Virginia's Coliseum drought against Top 10 teams, only to begin another one, which didn't conclude until the Mountaineers beat Temple in 1994.
A stinging 97-94 loss to top-ranked Massachusetts in overtime was by far the most depressing to WVU rooters, considering that West Virginia had an 18-point lead with 4:48 remaining.
That's the game when Boston Globe writer Joe Burris accused Mountaineer fans of hurling ice, beer, water, cups and Frisbees onto the court in disgust. Ice, water, cups and Frisbees, perhaps, but never beer.
Even Bostonians should have been wise enough to know that a true West Virginia fan would never sacrifice a can of beer, even on someone like John Calipari!
Yet this was the mindset of many WVU basketball fans when Jim Calhoun brought his sixth-ranked Connecticut Huskies to Morgantown for a Big East showdown against the 16th-ranked Mountaineers.
How was West Virginia going to blow this one, they wondered?
WVU, that year, was really good with wins over 20th-ranked Georgia in Atlanta and a Big-Monday triumph against Georgetown. The victory over the Hoyas was significant because they were one of only two Big East teams the Mountaineers had not defeated since joining the conference, the other being UConn.
But an eight-point defeat four days prior at St. John's had tempered enthusiasm and added to the doubts.
Veteran coach Gale Catlett sensed his team needed a little jolt, so he decided to insert 6-foot-11 senior center Brian Lewin and 6-foot-1 senior guard Greg Jones into the starting lineup.
Jones was WVU's top point producer coming off the bench with an average of 11.5 points per game, while Lewin was also an important contributor with scoring, rebounding and post defense.
Connecticut was young and talented, with sophomores Rip Hamilton, Kevin Freeman and Jake Voskuhl forming the nucleus of the Husky team that won it all a year later in 1999.
Also on that team was pudgy, 5-foot-10-inch, 200-and-some-pound freshman guard Khalid El-Amin, who took personally West Virginia guard Jarett Kearse's characterization of him as "the little chubby kid" before the two teams met in Storrs earlier in the season.
Kearse had once played against El-Amin in an AAU tournament and was asked by a West Virginia writer what he remembered about him, which was why he was popping off in the first place.
El-Amin, of course, wasn't amused when Calhoun got his hands on the quote and put copies of it in the locker room. He dropped 29 points on the Mountaineers and looked over at the WVU bench each time he scored a basket in the Huskies' 88-75 win.
Despite the loss, Catlett thought his team matched up pretty well against Connecticut, particularly with Jones now in the backcourt with point guard Jarrod West and Lewin teaming with forwards Damian Owens and Brent Solheim in the paint.
Daily Athenaeum sports editor Derek Redd, today the managing editor of the Wheeling Intelligencer and News-Register, called game day "D-Day," which gives you a pretty good idea of the mindset of the WVU students before tipoff.
Many of them camped out the night before and when the doors opened 2½ hours before tipoff, they rushed through like a wild stampede seeking the warmth of the WVU Coliseum and the nearest seat to the floor where their heckling could more easily be heard by the players.
They joined an overflow crowd of 15,167 eager to find out if West Virginia could finally get into the W column against the Huskies. Sitting courtside with them were ESPN announcers Mike Tirico and Dick Vitale, who cut short some his prep work during pregame warmups to get the students whipped into a frenzy, as if they needed any additional priming!
The first half scoring basically came in three bursts – two 17-7 spurts by West Virginia and a 23-9 run by Connecticut – leading to 43-37 halftime lead for the Mountaineers.
A Jones 3 at the beginning of the second half got the lead to nine, and then a West jumper built it to 11.
Connecticut wiped that out at the 10 minute mark before Adrian Pledger, West and Jones answered with seven straight to make it a 15-point advantage.
The margin swelled to 19 with 2:46 remaining on West's 15th point of the night. By then, the students were thoroughly enjoying themselves while chanting "Gary Coleman!" every time El-Amin got the basketball.
For those too young to remember, Coleman portrayed the precocious Arnold Jackson in the television sitcom Diff'rent Strokes that aired on NBC in the early 1980s.
Nevertheless, El-Amin didn't handle the heckling too well, finishing with just seven points and four turnovers in 22 minutes of action. His first shot, a 3, went down and he gestured to the crowd, which was like pouring gas on an open flame.
Afterward, the one adjective El-Amin used to describe the crowd was "hostile."
Connecticut conceded the game with 1:20 to go by choosing not to foul with the deficit at 13.
"I thought the atmosphere was just terrific," Calhoun commented. "I couldn't wait to get out on the court, but apparently I was the only one from Connecticut who felt that way.
"I can handle losing," he continued, "but I can't handle a kid 6-foot-7 (Hamilton) playing 29 minutes and not getting a defensive rebound. And I can't handle a point guard (El-Amin) running around out there like crazy."
"One of the best crowds I've ever seen here, and I've seen some good ones in 20 years," Catlett added.
It was so loud that a frazzled Vitale couldn't even hear himself yelling, "Awesome, baby!" Afterward, he high-tailed it out of the arena with a cordon of security before the students could swarm him. One event staffer was overheard telling a security guard, "They're taking the chairs!"
Freeman, who had 22 the first time the two teams played, finished with just six.
"I thought the key to the game was our containing El-Amin and Freeman," Catlett said. "We knew we had to do a good job against those two."
Hamilton, later a three-time NBA all-star whose jersey No. 32 was retired by the Detroit Pistons, was as good as advertised with 19 points.
But the star of the game was Jones, who poured in 18 points on 4-of-8 from 3-point range.
Jones, not to be confused with the Greg Jones who played for the Mountaineers in the early 1980s, nor the Greg Jones who played on the football team in the late 1980s, nor the three-time NCAA wrestling champion, couldn't miss no matter what type of shot he took.
He might be the best off-balance shooter in school history, and some of the ones he made in that game defied logic. One sportswriter likened the free-wheeling Jones to a jazz pianist making things up on the fly, which is an apt description.
"We thought Jones would attack their press a little differently than (Adrian) Pledger," Catlett said. "He keeps his head up and finds the open man. Plus, it's easy to get open shots if you break the press, and he hit them early in the game."
In addition to West's 15, Pledger came off the bench to contribute 15 while forward Damian Owns added 12 points and 10 rebounds.
However, Catlett considered Lewin the MVP of the game with his 16 rebounds - 10 of those coming on the defensive glass.
West Virginia shot just 42.9% from the floor, an unusually low percentage for a Catlett team, but that was better than Connecticut's 38.7% shooting mark. The Mountaineers beat the Huskies 47-36 on the glass while forcing 14 Husky turnovers.
Mickey Furfari, the dean of West Virginia sportswriters, called it "possibly the biggest celebration in the history of the 28-year-old arena." He also wrote that the victory will "go down as one of the greatest ever in the Coliseum."
Twenty-three years later, Mickey's comments still hold true.
Sophomore forward Marcus Goree scores two of his nine points coming off the bench for West Virginia (WVU Athletics Communications photo).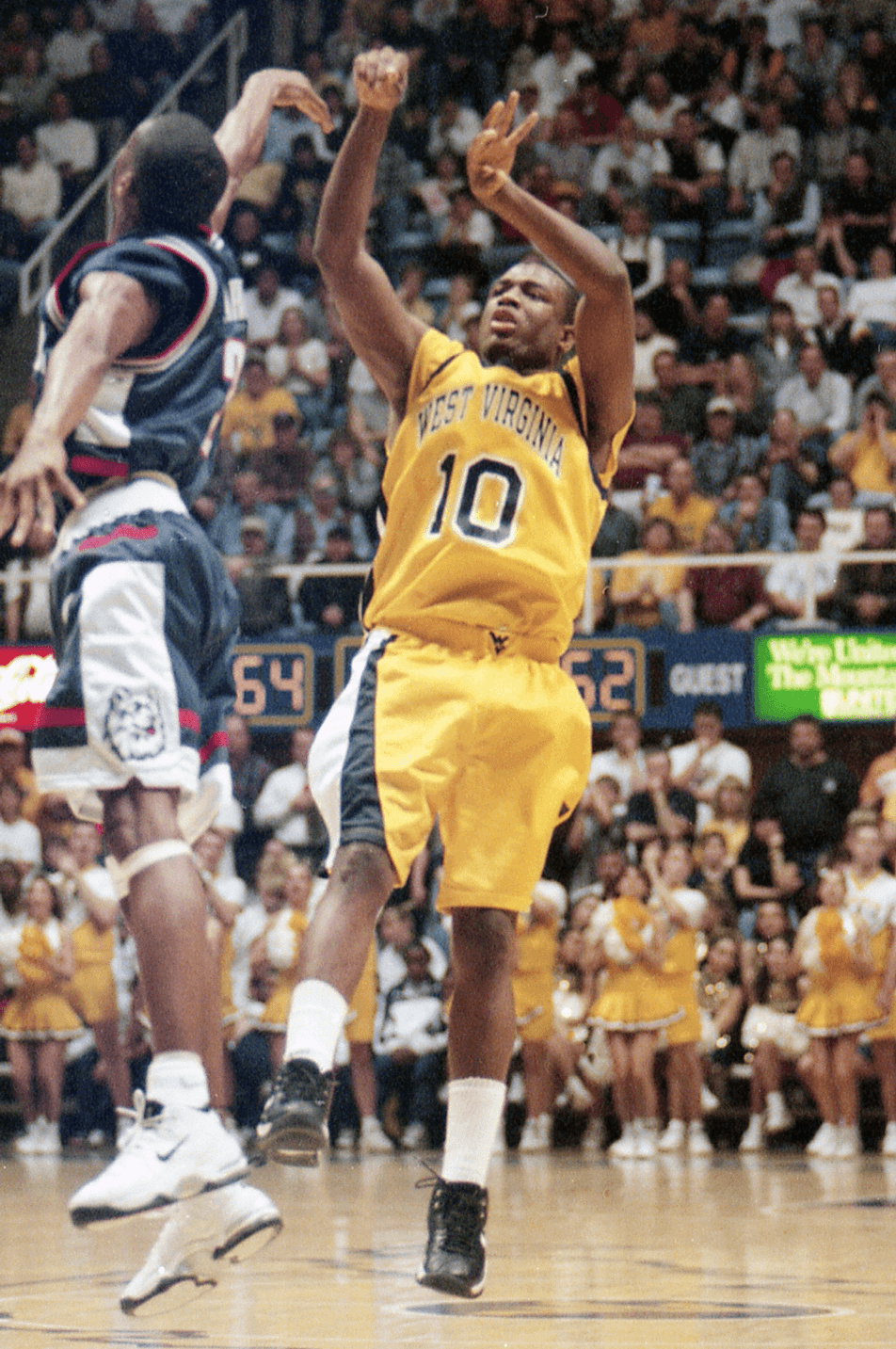 Senior guard Greg Jones made his first career start a memorable one as he poured in 18 points in leading West Virginia to an 80-62 win over sixth-ranked Connecticut (WVU Athletics Communications photo).
Senior guard Adrian Pledger scores two of his 15 points coming off the bench. Pledger was replaced in the starting lineup by Jones for this game (WVU Athletics Communications photo).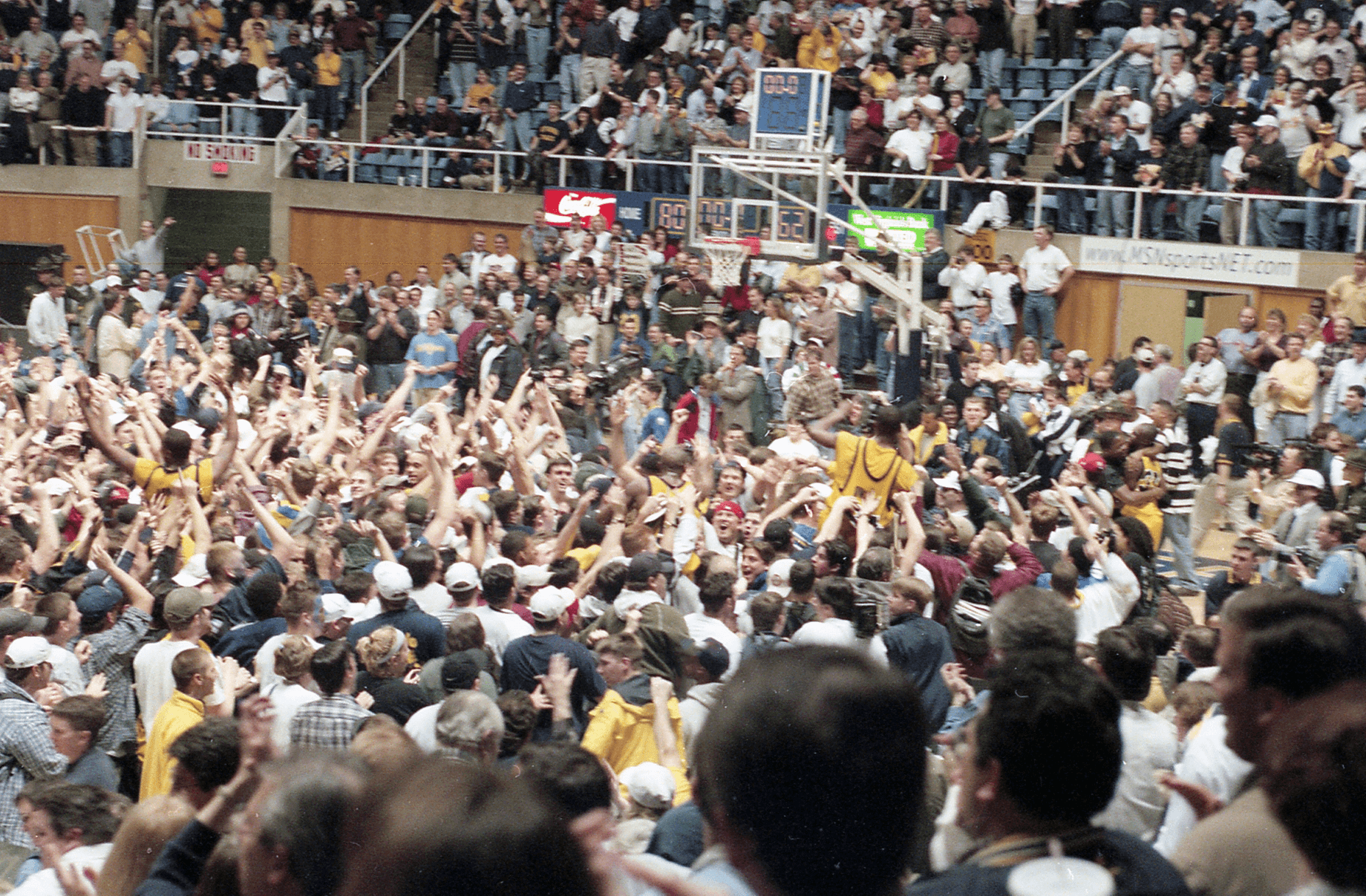 An overflow crowd of 15,167 celebrated West Virginia's 80-62 victory over sixth-ranked Connecticut on Feb. 11, 1998 (WVU Athletics Communications photo).
50 Great Ones!
Dec. 1, 1970 – West Virginia 113, Colgate 92
Dec. 11, 1970 – West Virginia 74, No. 14 Army 71
Feb. 19, 1977 – West Virginia 81, Notre Dame 68
March 16, 1981 – West Virginia 77, Temple 76
March 6, 1982 – West Virginia 82, Pitt 77
Feb. 2, 1983 – West Virginia 90, Virginia Tech 86
Feb. 27, 1983 – West Virginia 82, No. 1 UNLV 78
March 9, 1984 – West Virginia 67, No. 15 Temple 65
March 10, 1984 – West Virginia 59, St. Bonaventure 56
Jan. 21, 1989 – West Virginia 65, Temple 63
Dec. 9, 1989 – West Virginia 97, No. 22 Pitt 93
Feb. 27, 1993 – West Virginia 79, No. 21 Massachusetts 54
Feb. 8, 1994 – West Virginia 78, No. 8 Temple 71
Jan. 16, 1996 – West Virginia 90, No. 12 Syracuse 78
Feb. 26, 1997 – West Virginia 83, No. 18 Villanova 76
Feb. 11, 1998 – West Virginia 80, No. 6 Connecticut 62
Dec. 9, 1998 – West Virginia 73, No. 13 Syracuse 59
Jan. 27, 2001 – West Virginia 81, No. 16 Seton Hall 75
Feb. 17, 2001 – West Virginia 87, No. 10 Syracuse 76
Dec. 29, 2004 – West Virginia 71, No. 20 George Washington 65
Feb. 5, 2005 – West Virginia 83, No. 16 Pitt 78
Feb. 27, 2006 – West Virginia 67, No. 8 Pitt 62
Feb. 10, 2007 – West Virginia 70, No. 2 UCLA 65
Feb. 13, 2009 – West Virginia 93, No. 13 Villanova 72
Jan. 23, 2010 – West Virginia 71, No. 21 Ohio State 65
Feb. 3, 2010 – West Virginia 70, No. 22 Pitt 51
March 1, 2010 – West Virginia 81, No. 19 Georgetown 68
Jan. 16, 2011 – West Virginia 68, No. 8 Purdue 64
Feb. 19, 2011 – West Virginia 72, No. 8 Notre Dame 58
March 2, 2011 – West Virginia 65, No. 16 Connecticut 56
March 5, 2011 – West Virginia 72, No. 11 Louisville 70
Jan. 7, 2012 – West Virginia 74, No. 9 Georgetown 62
Feb. 5, 2014 – West Virginia 91, No. 21 Oklahoma 86
Feb. 10, 2014 – West Virginia 102, No. 11 Iowa State 77
March 8, 2014 – West Virginia 92, No. 8 Kansas 86
Jan. 13, 2015 – West Virginia 86, No. 18 Oklahoma 65
Feb. 16, 2015 – West Virginia 62, No. 8 Kansas 61
Jan. 12, 2016 – West Virginia 74, No. 1 Kansas 63
Feb. 6, 2016 – West Virginia 80, No. 15 Baylor 69
Feb. 22, 2016 – West Virginia 97, No. 17 Iowa State 87
Jan. 10, 2017 – West Virginia 89, No. 1 Baylor 68
Jan. 24, 2017 – West Virginia 85, No. 2 Kansas 69
March 3, 2017 – West Virginia 87, No. 24 Iowa State 76
Dec. 5, 2017 – West Virginia 68, No. 15 Virginia 61
Jan. 6, 2018 – West Virginia 89, No. 7 Oklahoma 76
Feb. 26, 2018 – West Virginia 84, No. 12 Texas Tech 74
Jan. 19, 2019 – West Virginia 65, No. 7 Kansas 64
Feb. 26, 2019 – West Virginia 104, TCU 96
Jan. 11, 2020 – West Virginia 66, No. 22 Texas Tech 54
March 7, 2020 – West Virginia 76, No. 4 Baylor 64